EcoTone event – Hike & to be audience!
2022/5/15 (Sun.) at Powder valley Nature Center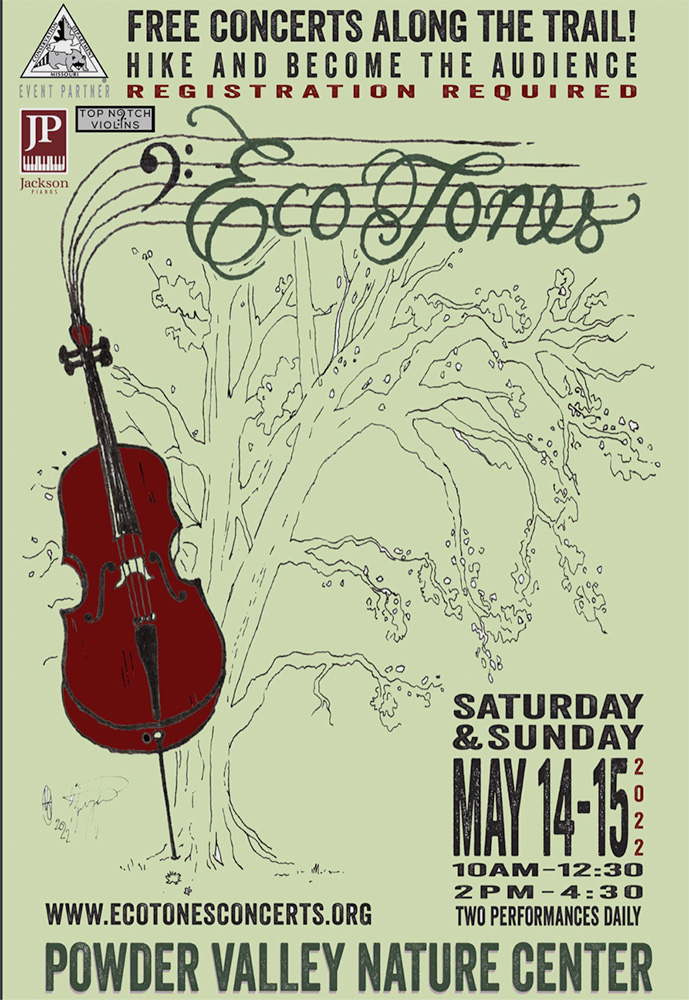 Staging Area Pavilion Music Performances
Aska Maret Kaneko, violin /Jiwon Kwon, piano
14:00-14:30
EcoTones event at Powder Valley nature center
Sat 5/14 10:00am-12:30pm & 2:00pm-4:30pm
Sun 5/15, 10:00am-12:30pm & 2:00pm-4:30pm
Become an audience while hiking in the woods! Professional musicians from the international jazz scene & St. Louis Symphony are waiting for you in five places in the woods. with lectures about the trees and birds by naturalists at the Powder valley Nature Center.
A family-friendly event where you can experience real music really closely.
森の中をハイキングしながらオーディエンスになろう!ネイチャーセンターのナチュラリストによる樹々や鳥などのレクチャー付き。森の中5ヶ所にて、インターナショナルジャズシーンやセントルイスシンフォニーのプロの音楽家があなたを待っています。至近距離で本物の音楽に触れ、自然と一体化するファミリーにもフレンドリーなイベント。
https://www.jodyredhageferber.com/ecotones
Margo Parks Cell: 314-239-2761.
Call/text her with any questions at any time!